How Do I?
Always start from the WHSC Library's homepage.
Avoid Multiple Logins

if on a single user computer, consider leaving the browser window open
if on a single user computer running Google Chrome, change settings "On Startup" to "continue where you left off." Browser will then authenticate across multiple browser sessions

Bookmark and start from Emory's instance of PubMed to ensure that you see the "Find It @Emory" icon. Do not use the publisher's icon provided.
Use BrowZine to stay current with your favorite journals. More information about BrowZine can be found on the Library's news blog.
The are 2 methods to find an article via PubMed and BrowZine. The easiest method to locate an article is to find the citation in PubMed and link out to Emory's subscribed content.
Go to Emory's instance of PubMed.
Type in the article title into the search box.
Click on the "Find It @ Emory" button.

Click on the Full text link and login with your University NetID and password.

You can also use BrowZine to drill down to the article you need. Please see the "Stay Current with Journals using BrowZine" section for more information.
Available to Emory faculty, staff, and students, the WHSC Library subscribes to Nature Masterclasses, a series of modules produced by the editors and reviewers of the journal Nature.  Originally begun in 2011 as "face to face workshops," they were developed into 15 online modules that address the process of writing and publishing.  Contact Ask a Librarian for access.
The following are some of the many modules available in Nature Masterclasses:
What Makes a Great paper: An Overview
Elements of Writing Style
Titles and Abstracts
From Introduction to Conclusions
Selecting a Journal for Publication
Submitting Your Paper
Understanding Peer Review
Data Management
Data Presentation.
Locate Articles
Please refer to the "Locate Article" section above.
Find the Right Journal for Your Article
There are some steps one should take in determining to which journal to submit an article.  Credibility of a journal is one of the most important factors.  Under the Library's Writing and Publishing section, there is a segment on Assessing Journal Credibility.  The other factor to consider is how often a topic or related topics are published in certain journals.  By performing a search on a topic, both Web of Science and Scopus allow for sorting by the number of times a topic has been published in journals. 
For assistance with using Web of Science or Scopus, please contact Ask a Librarian.
The WHSC Library also subscribes to Nature Masterclasses, which has 13 modules about how to select a journal.  One of the modules explores "Criteria for selecting a journal."  Available to Emory faculty, staff, and students, register with your Emory University email for access to the modules.
Books and Journals
If you would like to make a recommendation that a book or journal be added to the WHSC Library's collection, please send a message via the Ask a Librarian form. Please include why you think that item should be added to the collection.
Individual and group study rooms can be reserved through the online scheduling calendar.
To request room B_65 (Computer Classroom), please login to 25Live with your Emory NetID and password to submit a request.  
Additional details and policies for reserving rooms can be found here: Reserve a Room in the WHSC Library
Overview | My Bookshelf | My Articles | Download and Account Setup
Overview
BrowZine, available in a desktop version and as an app for Apple and Android devices, allows users to access Emory's online journal subscriptions in a quick and efficient way.
Some of BrowZine's key features include the ability to:
view journal(s) table of contents
save articles to read later on one's device
receive notification when new articles/issues are available
My Bookshelf
My Bookshelf allows users to create one's own "library" of online journals. Up to 64 journals can be placed in My Bookshelf. BrowZine supports majority of publishers; the comprehensive list of publishers can be found here.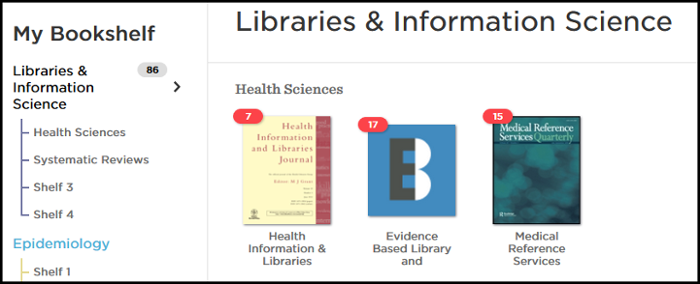 My Articles
Create Collections of articles using the My Articles feature. BrowZine will sync all of your articles across devices.
Find the Add To My Articles button by selecting the Expand button found on the right of the screen.

Download and Account Setup
To use the BrowZine app:
after installation, select Emory University from the list of schools.
enter your Emory University NetID and password.
select a subject of interest or search for a specific journal and add it to your Bookshelf after creating an account.
For questions regarding BrowZine, please contact Ask a Librarian.