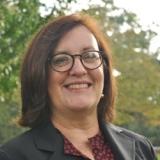 Ellen Neufeld
Interim Director of the Library
Education
MS

,

Library Science

,

University of North Texas

BS

,

Journalism

,

University of Tennessee
Professional Profile
Ellen Neufeld is the Deputy Director of the Oxford College Library. She has been responsible for a variety of different teams and projects since joining the Oxford Library in 2005, including overseeing annual exhibits and events, collection development, and research practices.
She received a Bachelor of Science in Journalism from the University of Tennessee, and a Master of Science in Library Science from the University of North Texas where she was an Institute of Museum and Library Services/Emory University/University of North Texas/Atlanta University Center Librarians for the Digital Age Scholar and Grant Recipient (Laura Bush 21st Century Librarian IMLS Grant). Neufeld completed the ACRL/Harvard Leadership Institute in August 2015.
Most recently Neufeld served on the Steering Committee, Core and E-resources working groups for the University libraries' migration to the Alma system and is serving on the Oxford College Strategic Plan Steering Committee.
CONTACT INFORMATION
T:
F:
MAILING ADDRESS
Oxford College Library
801 Emory Street
Oxford, GA 30054
United States