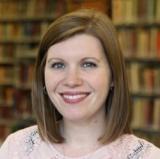 Jessica Robinson
Director of Library Finance and Operations
Education
MLS

,

University of Alabama

BA

,

Valdosta State University
Professional Profile
Jessica Robinson is the Assistant College Librarian of Finance and Operations at the Oxford College Library. Jessica started working at the Oxford College Library in 2007 and her responsibilities include Hub of Living and Learning team leader, Student Employee Team leader, and personal librarian to the Biology, Academic Services & Campus Life, Astronomy, Chemistry, Math, Physics, and the Center for Healthful Living faculty.
Jessica received a Bachelor of Business Administration in Marketing from Valdosta State University, and Master of Science in Library Science from the University of Alabama. She works very closely with the Dean of the Library to oversee the day-to-day function and financial operations of the library.
Jessica currently serves on the Assessment Integration Group, Accessibility and Accommodation Group, and co-leads the Acquisitions/Finance Working Group. She is also the Data Steward for the Oxford College Library.
CONTACT INFORMATION
T:
F:
MAILING ADDRESS
Oxford College Library
801 Emory Street
Oxford, GA 30054
United States